Today mid-sized companies face great business challenges to increase their bottom-line and operational challenges with relation to IT investment to realize true business value.
Managing an IT infrastructure without setting up an IT department, unlocking resources to focus on strategic areas, accessing a broader knowledge base without investing in acquiring resources, are essential to managing a business with greater operational freedom and financial agility in such times of change.
KANsolv brings you multi-vendor expertise and the services you need. Drawing on a broad knowledge base of individuals that stimulates the sharing of cross-industry business domain & best practices, we take a complete ownership approach managing and supporting the lifecycle of a project from start to finish. As a result, our IT Outsourcing service offers you direct business benefits by
In the outsourced process and engagement with us, we assure you of increased visibility into service delivery. We help you develop business focused processes and governance models that achieve efficiency and are effective at every stage.
Eliminating unnecessary recruitment to support your operations and reducing your manpower liability.
Reduced cost and turn-around time of outsourced projects through use of rich libraries and reusable components.
Guaranteeing the advantage of emergent technologies.
Web Designing Outsourcing
Outsource your Web site design projects to India and to KANsolv - one of the top Hyderabad based Web site design companies catering to cream global clientele. Elegant & aesthetic, quick & user-friendly – our company offers cool Website designing and development solutions that will impact your audience with stunning effects and effectively address your business needs. At KANsolv, we know that comprehending the rationale behind a companies Web presence is essential before the Website design can be conceptualized. Full knowledge of your business objectives helps us identify your requirements and find the right solutions for your companies website. Web designers at KANsolv in Hyderabad, India, then create the perfect brand image - a pleasing, user-friendly Website with functionalities that meet your expectations.
In spite of complex functional requirements for your web site, we aim to keep the user interface as simple and attractive as possible. It forms the bridge between the user and the technological back-end which is the backbone of all business Websites today. Ease of navigation, consistency in overall layout/look-and-feel, depth of content and quality of execution are just a few of the Website designing yardsticks that matter to our Web designers.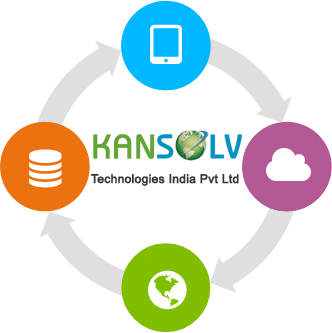 Our Web site designers fully appreciate the fact that no two Web design projects are alike. Each client has a unique corporate identity, offers widely different services/products and follows varied objectives that must be reflected through its online entity. The job of our Web designers is to create a strategically-designed Website which will emphasise the client's uniqueness and stand out from the rest. Each Website is a custom creation and we ensure a distinctive look which is totally different from a run-of-the-mill Web design. Web designers at KANsolv make sure that your Website should be contemporary, unconventional and competitive. We are one of the leading web site design companies in Hyderabad, India and our quality, creativity & experience are best underlined by the fast-loading, functionality-rich & aesthetic Websites KANsolv has developed till date.